---
W.W., veteran African hunter endorses the Murray A-2 Cobra sling.
"It's awesome," he said while taking a break on his last safari.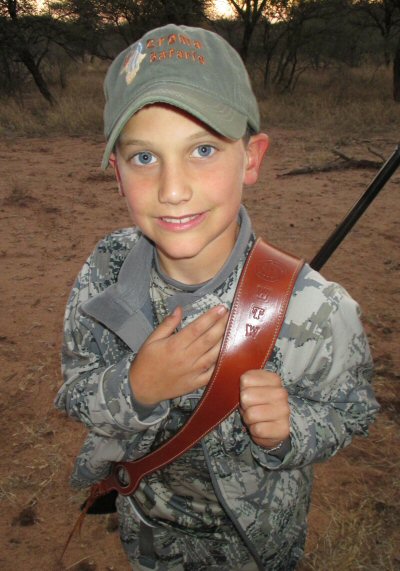 ---

Dear Mr. Murray,

Thank you very much.

On a different note, although I have not been able to use your Sling on the Sauer 202 because of the different Sling Swivels, I have been using them on the model 70 and they are good slings.

I congratulate you on a wonderful product.

Yours sincerely,
A. B. M.


---

Hi Dick,

We spent quite a bit of time talking at the Grand Slam Club / Ovis convention earlier this year, and you subsequently made up a belt (in addition to the one I bought from you that you had on the show floor) and a number of slings for me.

I just wanted to let you know how very pleased I am with the new sling(s) and the tactical swivels. I returned from the Arctic last week (Victoria Island, Nunavut) and wanted to tell you how happy I was with the performance of these swivels. Not a squeak, not a twist, not a binding, easy on and off as necessary. Simply an absolute joy to have on my rifle. I use nothing but your slings, and have for a number of years. That is why I had you make multiple (five) of them for me following the Grand Slam Club / Ovis show. I/we intend to never have to use anything else on any of either my or my wife's rifles.

Thanks again for making such wonderful products and supporting groups like Grand Slam Club / Ovis, Safari Club International, etc. I sincerely appreciate it!

All The Best, B.S.L., CO


---
Dear Dick,

I received in today's mail a package with the ammo carriers and the Quick-Set rifle sling. To say I'm impressed is an understatement. These are absolutely great. I truly love quality leather products and yours are some of the finest I've seen to date.

T.T., Sierra Vista, AZ