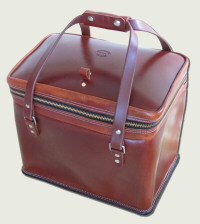 For pleasure or competition this bag will work as a sporting clays bag, carry-on, camera case, or gear bag. Spill-proof design features a flat base and zippered top for quick, easy access. Features two strong hinged carrying straps, double nylon stitched throughout and hand-burnished edges. Made of prime saddle leather that is oiled and finished to a beautiful saddle tan. Will give you a lifetime of use. Ample room for your accessories.

All models are the perfect "carry on" size

Standard 10"W x 8"D x 11"H
$695

Most Popular Size
Large 14"W x 10"D x 13"H
$750

Magnum 22"W x 10"D x 15"H
$895
(wood reinforced bottom)

(price in cart includes $20 shipping)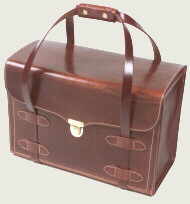 Offered for years on a custom made basis, this fine bag now joins our regular full product line and is suitable for the international hunter. Made from #1 grade saddle skirting leather, it offers two inside pockets, wrap around 1-inch grips with snap closure, quick access, nylon stitching, dark oak oiled finish, reinforced bottom and the body of the bag is made from a continuous piece of leather. From hunting camp to board room, courtroom or cockpit, you will enjoy this handmade masterpiece for a lifetime.

Size: 18" L x 8" W x 12" D
$695

(price in cart includes $20 shipping)


OPEN BAG DETAIL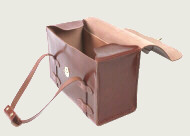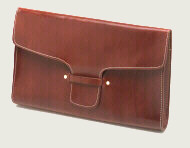 One piece fold-over for your important documents. Quick accessibility with a definite real leather look in a beautiful saddle tan finish. Nylon stitching throughout.

Size: 16" L x 10" W x 2" D
$295

(price in cart includes $20 shipping)



Dick,
Just a short note to express my appreciation for
a job well done on the rifle case, portfolio, and shell
holders. I really like them and received rave reviews
from my friends that have seen them. I know they will
provide a lifetime of use and I appreciate your time
and attention to detail.
Thanks again,
T.S.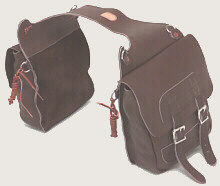 Light and roomy, these saddle bags are handmade from
top grain boot leather. Features include 1-1/4" buckles and straps, double nylon stitched, six 1-inch "D" rings, latigo attaching strings, seamless bottom and reinforced buckle straps. Unlike pigskin, or dry stiff leather, top grain boot leather will remain soft and pliable for years of service. Plenty of room for your hunting gear.

Size: 14" L x 12" W x 5" D
$595

(price in cart includes $20 shipping)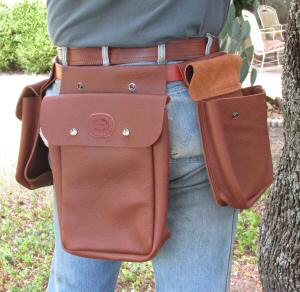 All leather Bird or Shooting Bags. Two medium bags and one large - NOT attached to the belt - so you can configure them to suit YOUR requirements. Soft, strong chap leather with heavy duty snaps (can also be snapped "open", for easier access, when needed). Brass grommet in the bottoms, for easy cleaning. Heavy saddle leather belt is supplied with enough adjustment to use with "dove huntin' t-shirts" or over a coat."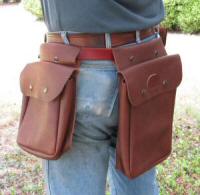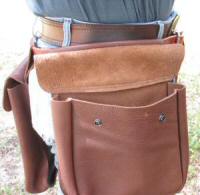 Price $495




Bags & Portfolios


© Copyright MurrayCustomLeather.com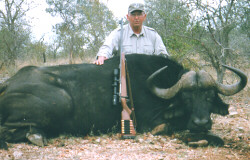 Note: We will ship your order via UPS, UPS Sure Post, or USPS Priority mail. When we ship via UPS or UPS Sure Post, we do NOT always determine if a signature is required. UPS makes this decision based on value & location. You may enroll in UPS My Choice if you would like to setup your personal preferences for delivery.


Cut from one piece of the finest grade saddle leather, this
briefcase features a double-tough grip, internal divider,
and is nylon stitched throughout. The reinforced bottom
and strong buckle closures insure a lifetime of durability.

Available in two sizes:
Most popular B-2 Magnum
Size: 18" L x 12" W x 5" D
$595

Traditional Size: 16" L x 10" W x 4" D
$550


OPEN BAG DETAIL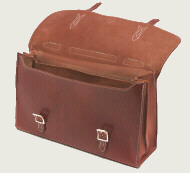 (price in cart includes $20 shipping)






NEW ITEMS!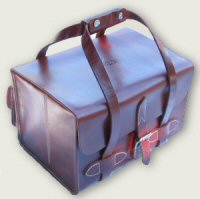 Perfect for any field use - shotgun or rifle. Sewn
in divider, wood reinforced bottom, optional separate
compartment for choke tubes, cleaning equipment,
etc. Strong wrap around strap/grips. Fits overhead.
Perfect travel companion and finished in an
outstanding saddle tan color.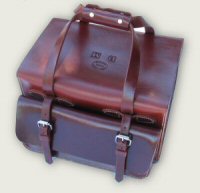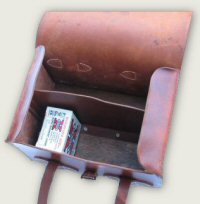 Dimensions: 12-1/2" W x 8-1/2" D x 7-1/2" H
$750

Includes Accessory Compartment: 12" W x 2" D x 6" H


Dimensions: 15" W x 10" D x 10" H $850

Includes Accessory Compartment: 15" W x 3" D x 7" H

(price in cart includes $20 shipping)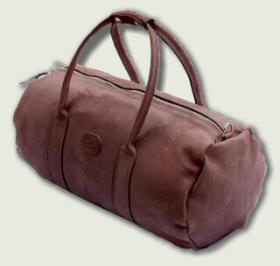 This bag will not be confused with any imported designer style,
overpriced special. Hand made in our shop from a special tanned
boot leather it will give you a lifetime of use like our other
products. Measuring 22" long and 12" in diameter it's plenty
large enough for that week-end get-away and a perfect fit for the
overhead bin. Featuring a heavy duty brass YKK zipper (the same
we use on our gun cases) and double stitched throughout with
gorilla-proof grips this beauty is built for the long haul.
Shoulder strap included.

C-16 Murray Standard Sport Bag (measures 22" long, 12" diameter) Price: $395

C-16 Murray Large Sport Bag (measures 26" long, 14" diameter) Price: $495

C-16 Magnum Sport Bag (measures 30" long, 16" in diameter) Price: $595

(price in cart includes $20 shipping)