This is a one-piece, conventional carrying case made for a lifetime of use. Offering the double tough protection of heavy saddle leather and lined with man-made sheepskin that is breathable and non- reactive to gun oil. This case will carry your rifle in style and safety. Featuring hinged grips that wrap all the way around the case, cradling the rifle, a full length YKK brass zipper, and double-extra reinforced end cap that protects the muzzle even if the case is dropped. Be assured you have the best in the industry in this spectacular gun case.

The S-4 will accommodate rifles up to 48" in overall length, with scopes up to 56mm objective. If your rifle is longer than 48" or has a larger scope or TARGET TURRETS, please call.

Price: $695 (price in cart includes $30 shipping)










Designed for your favorite shotgun from one piece of heavy saddle leather, it too will give you a lifetime of use and durability. Full length heavy brass zippers, hinged leather grips, double nyon stitched, and lined with man-made sheepskin this is the complete package for a great shotgun case.

The S-5 will accommodate shotguns up to 51" in overall length. If your shotgun is longer than 51", please call.
Price: $695 (price in cart includes $30 shipping)




Dear Mr. Murray,
I received the shotgun case I ordered from you yesterday just a few minutes ago. I had to let you know I have never seen a more beautiful case! Your craftsmanship is extraordinary. My Dad was an avid gun collector and hunter and my brother and I inherited his collection. He had several nice leather gun cases, but yours put his to shame.

We will be presenting the case to our outgoing Society President on May 24th. He has been a wonderful President and is very deserving of such an amazing gift.

Thanks for your help,
S.M.
Executive Director
Greater Houston Dental Society



Designed for your double rifle or shotgun, featuring two side by side compartments. Constructed of heavy duty saddle skirting leather and lined with our exclusive man-made fleece. This unit can be shipped inside your duffel. Other features include: Full length brass zippers, Gorilla proof hinged leather carrying handles in rich oiled saddle tan finish. This case offers maximum protection for a lifetime of use.

Up to 28" barrel length $850
Up to 30" barrel length $875
Up to 32" barrel length $900

(Other lengths available on request)


2 Barrel Model $1295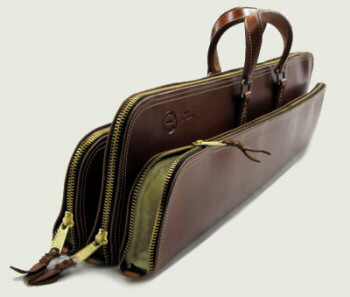 2 Gun - 2 Barrel Model $1395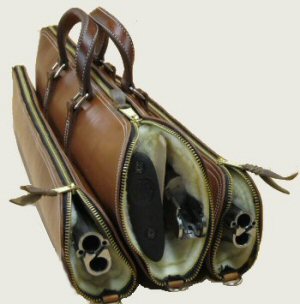 (price in cart includes $30 shipping each)









Fits two shotguns and sits upright. Cut from the same lot of saddle leather to insure a uniform finish. These cases are lined and constructed identical to the S-5 shotgun case.

Price: $1,295

(price in cart includes $30 shipping each)










Fits two scoped rifles and sits upright. Cut from the same lot of saddle leather to insure a uniform finish. These cases are lined and constructed identical to the S-4 rifle case and will give you a lifetime of use.

Price: $1,295

(price in cart includes $30 shipping each)









Full length, end flap opening designed for your side-by-side or over/under. This case is a re-creation of the turn of the century style and is a time proven winner. Adjustable shoulder strap, hand grip,hanging loop, and lined with our exclusive man-made fleece. Made from the finest saddle leather. Double stitched throughout. Also available for some scoped rifles.

Price: $750 (price in cart includes $30 shipping)






Rifle & Shotgun Cases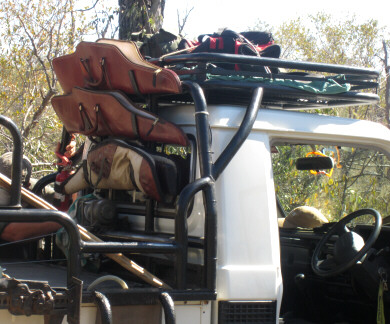 Typical application of Murray Deluxe
Rifle Cases in use in Africa.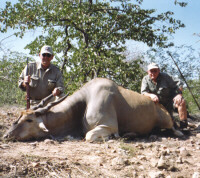 © Copyright MurrayCustomLeather.com
Note: We will ship your order via UPS, UPS Sure Post, or USPS Priority mail. When we ship via UPS or UPS Sure Post, we do NOT always determine if a signature is required. UPS makes this decision based on value & location. You may enroll in UPS My Choice if you would like to setup your personal preferences for delivery.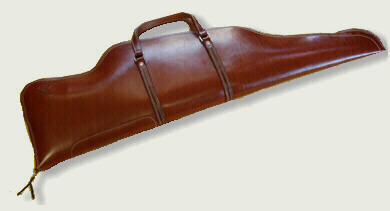 Designs available for both .223 and .308 based AR hunting rifles. This is the answer for the man that has discovered the practical use of the AR hunting rifle and the fitting size issue of a hard plastic case. Carry your AR hunting rifle in a classic Murray Deluxe Rifle Case, this is a case that tells the world that this is a serious hunting rifle.

Features a perfect fit with a padded reinforcement for the pistol grip and our trademark built-in muzzle protector. Constructed of one piece of heavy saddle leather, lined with man-made fleece that is breathable and non-reactive to oil and solvent, this case will carry your rifle with style and safety. Full length YKK brass zipper and wrap-around double support for the hinged grips insure an extremely strong unit. This is a smaller version of our 50 caliber case that has seen years of service in far away and hostile places. Available in saddle tan.

View Inside the S-15 Rifle Case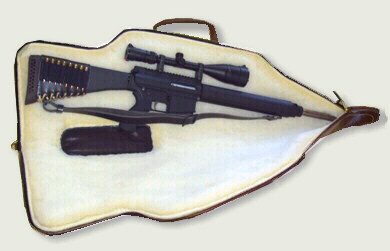 Price: $795 (price in cart includes $30 shipping each)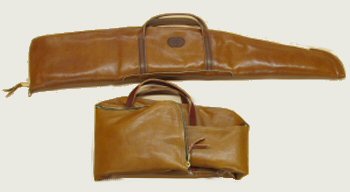 A shorter, compact case perfect for Double Rifles or Light Sporters up to 46" overall length, with mid-sized scope.

Price: $495 (price in cart includes $30 shipping each)




The S-14 Deluxe Rifle Case is the soft leather version of our S-4, suitable for folding and storing in a travel bag. Same basic features as our saddle leather Deluxe Rifle Case this is a great destination case that offers maximum protection for your rifle. Made from 5 oz. chap leather with our exclusive man-made fleece, this case takes up minimum space for transport.

Price: $495 (price in cart includes $30 shipping each)






Designed to protect your bolt during transport, this case will keep it clean and ready for your safari.

Price: $40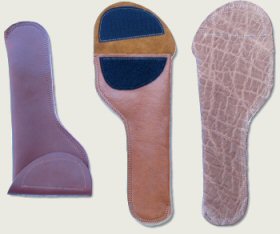 For rifle or shotgun. Made from lightweight chap leather or real waterproof canvas. The slip also protects from dust and the abuse of metal gun racks. Folded it will fit in a coat pocket and has proven to be one of our handiest accessories.

Price: $175
(price in choose model selection includes $15 shipping)