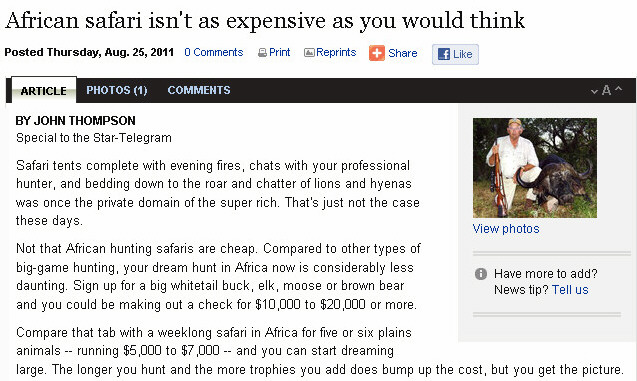 Dick and Anita Murray, friends of mine since the days of their Murray's Marine out on Camp Bowie, are just home from their fifth African safari in five years and have already booked their trip for next year.

The way they put it, "we work all year just to go back on safari." Anita is a substitute teacher and together the couple own and operate Murray's Custom Leather. Murray's leather products are made for hunters and shooters, so he is thrown in with guides, outfitters and professional hunters on a regular basis. A lifelong hunter, Murray tends to lock in on one particular game. For years that was the elk, then he went after moose. He took several of these antlered monsters, including all four of the North American species.

The next animal looking back through his rifle scope was the Cape buffalo. This animal can make you pay if you aren't careful. Of the big five dangerous animals in Africa, most professional hunters consider the Cape buffalo the one most likely to kill you.

"Buffalo hunting is mostly a close-in type hunting," Murray said. "My seven buffalo have been taken at ranges from 16 to 32 steps."

As you could expect, Murray believes in a big rifle with the best bullets you can buy. After hunting for years with the widely used .375 H&H Magnum, he now carries a .416 Rigby, shooting Barnes bullets.

From their first safari in 2007, Anita has been ready to go and said she wouldn't think of missing a trip to Africa. Though she doesn't hunt, she goes out each morning on the hunts and enjoys her time there. Neither is overly concerned about their safety, emphasizing that you are never left alone.

The Murrays have hunted with four outfitters in their five trips, the latest being HHK Safaris, which Dick Murray calls the best so far, and who they will use next year. HHK is the largest safari outfitter in Zimbabwe and books both hunting and fishing trips. They hunted the Chete concession just southeast of Victoria Falls. This dandy little hunting lease covers 500,000 acres, so you won't feel crowded.

Hunting buffalo can be hard or easy, and you never know what the next day will bring, but in most cases it requires a lot of walking. Though there are thousands of Cape buffalo in the country, finding the right bull and then getting a shot at him is a challenge.

Murray said they hunt for bulls that are past their prime and no longer breeders. The bigger the horns the better, but he isn't trying to set any records.

Spending days in the African bush exposes you to so many sights, sounds and animals you seem to see something new around every turn.

Murray suggests first-timers prepare by attending the Dallas Safari Club show, which gives them the opportunity to visit with a number of outfitters and guides in one location.

Next year there are more buffalo hunts in their plans, along with an elephant, a crocodile, and who knows what else. Murray killed a hyena weighing well over 200 pounds this last trip, and was amazed at the size and toughness of the animals.

With our local hunting season about to kick off next month, lots of you are making plans for dove, deer, turkey and hogs. You might want to think about stepping out next summer to a bigger adventure.