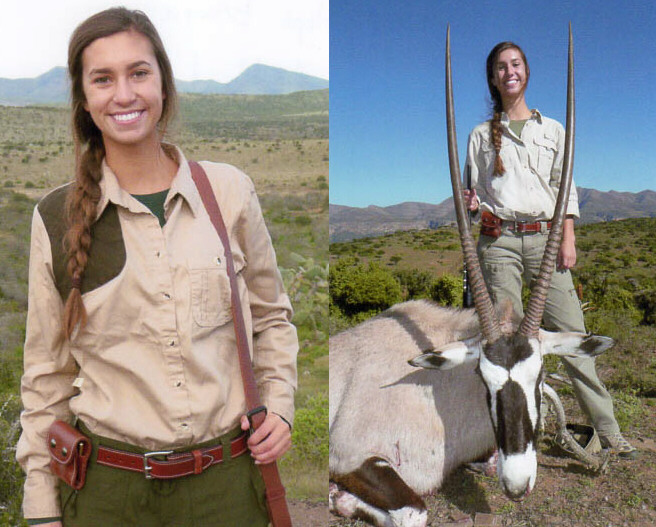 H. E., pictured with her African trophy. A veteran hunter,
she uses only Murray Leather slings, shell holders and belts.
Mr. Murray,
Please find enclosed pictures of my daughter from our South African hunt with Blaauwkrantz Safaris.

Hope practiced with the Quick Set rifle sling before our departure and it proved to be most successful in her efforts to harvest these great trophies.

You made her belt, shell holder, and rifle sling, which all contrive to be first quality.

Thank you for the "field test" items you sent me when my guy picked up the Deluxe Rifle Cases.

All the best,
T. E.
---

Your quality and service is tops!

Mr. Murray,

Just a short note to say thank you for the care and effort you put into your products. Twice now I have ordered a fast set sling and buttstock shell holder for several rifles and have found them to be of the highest quality. I didn't think you could get leather so consistently evenly thick and without blemish. Among other things excellent Texas cows must be the best! I take pride in such a fine product as yours made in the USA.

Thank you,
S.J.
Memphis, TN


---

Good evening Dick,

I just received your beautiful A1 sling, the quality of the sling and the functionality make your sling the best in the market ! Great job and thank you for making such a superb product for us hunters, finally a sling with quality, and simplicity.

I have seen other slings that look like they came out of a boutique, and should be in a fashion show in Milan. No Thanks ! Don't understand people who buy such crap !

Once again Thank you for making your A-1 with great quality and craftsmanship, and let's not forget simplicity

Thank-you SIR !

And God Bless America
T. from Canada

Will do business again !

---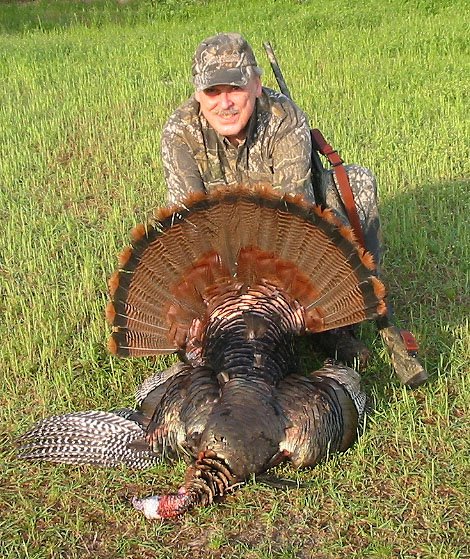 Dick,
I am very pleased with the A-1 Murray Quick Set Rifle Sling. The "Made in the USA" quality and craftsmanship is top shelf! The quick-set feature works well on my hunting rifles but the light weight and comfort also makes it a fine carry sling for my shotgun on spring turkey hunts.

Best regards,
C. M.

---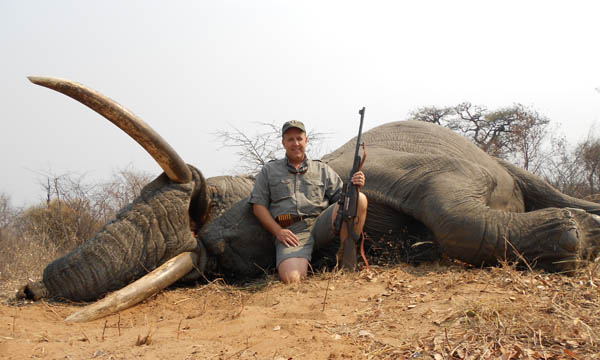 Date: 22 Aug 2011
Location: Tsholotsho Province northwest of Bulawayo, Zimbabwe
Elephant: Left tusk, 71 pounds and 76 inches long; Right tusk, 67 pounds and 69 inches long; est. total weight, 5 tons
Rifle: Winchester Model 70 Custom African Express in .458 Lott caliber
Bullet: 500 gr. Barnes monolithic solid at 2300 f.p.s. velocity and 6000 ft. lbs. of kinetic energy
Ivory Hunter: T. C. (using Murray Leather sling, belt and shell holder)

---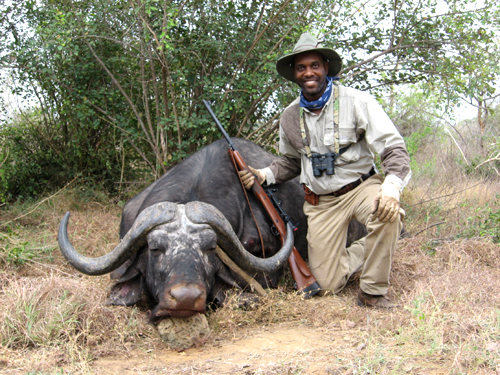 Hi Dick,

It has been a pleasure talking to you. I enjoy it each and every time.

I own three of your C1 Rifle Shell Holders. One for each caliber of rifle I own to hunt game all over the world. I have had them hiking in the mountains and crawling across the prairies.They have yet to fail me by not keeping ammo quite or readily at my finger tips. Secondly I own a Quick Set Sling and again it performed as you stated. Its comfortable, easily adjusted, and with absolute silence from the tactical swivels. Whatever formula you have for making such a durable, reliable, and quality product that performs as it should, do not change it. Your products have helped me achieve success more than once. Thank you for making such a great product that will last a lifetime.

Best Regards,

A. P.
---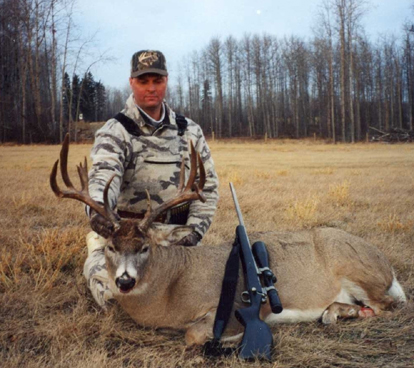 Hello Dick,
Enclosed is a picture of nice Alberta whitetail. Thank You for making a quality shell holder. Up in the North Country sound travels. Your shell holders keep the cartridges rattle free and protect them. You have to keep your noise to a minimum up in that big bush country. And they are made in the Good Old U.S.A.

Thanks, M.F.
---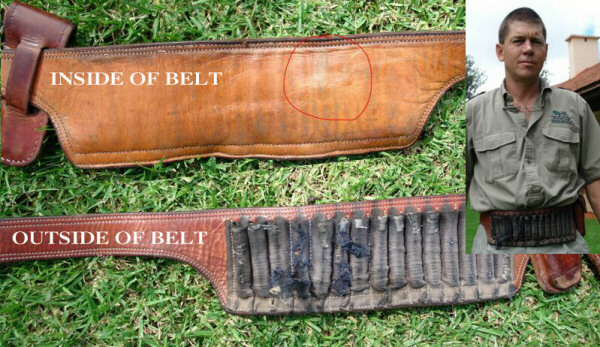 Dear Dick,
Firstly thanks for a great product.

Secondly sorry for the delay but I have just gotten back to Tanzania where all my equipment is. I have attached photos of the belt that I was wearing the day I was gored by the Buffalo. You can clearly see where the point of the Buffalo`s horn went into the belt. If I had not been wearing one of your belts which is made of exceptional quality leather, the Buffalo`s horn would have penetrated my stomach and I would not be around to thank you.

Best Regards
Martin Nel
---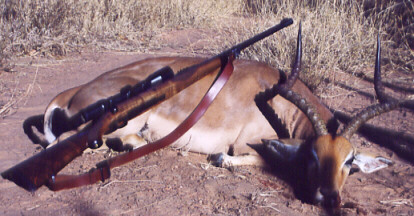 Dear Mr. Murray,
Here is a picture of your Quick Set Rifle Sling on my 375 H&H Ruger. I gave the sling quite a workout in Zimbabwe earlier this month and was very pleased with its comfort, stability and super easy adjustment.

Thanks for a great product!
Regards,
W.V.




African hunter, J. S., departing for a morning hunt.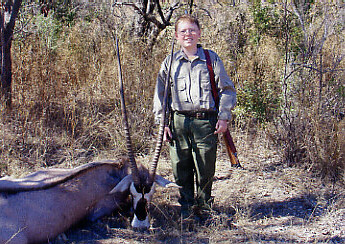 Veteran hunter J. S. posing with his morning trophy, stated that he used his
Murray Quickset Sling with great success on his African safari.
---
Dick,
I wanted you to know the A-1 exceeded my expectations! It was very obvious by studying the workmanship on the sling, you are using your God given talents.

Thanks again and may God continue to bless your work,
J.H.
---
Dear Mr. Murray,
I just received a Murray Rifle Shell Holder for a good friend for Christmas. I am just delighted with the quality of your work. I have been big game hunting for over fifty years and there is one lesson I have learned the hard way. The lesson is that you get exactly what you pay for when any equipment is concerned.

The Murray rifle shell holder is perfect. No noise, perfectly sewn and fitted and built to last a lifetime. I intended to buy the best for my friend and it looks like I have succeeded.

Sincerely Yours,
J.E.
---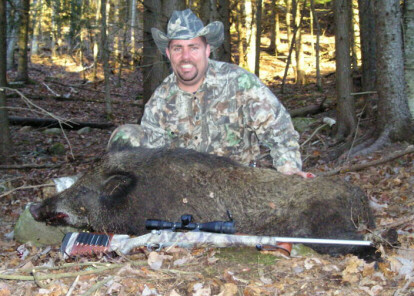 Mr. Murray,
Thanks again for the quality materials and craftsmanship you put into your leather gear. The padded thumb hole sling makes carrying my 300 SA Ultra Mag effortless after a long week bear hunting, and having a few extra rounds in the Butt Stock Shell Holder, sure came in handy on this 323# Trophy Russian Boar hunt.

S. D..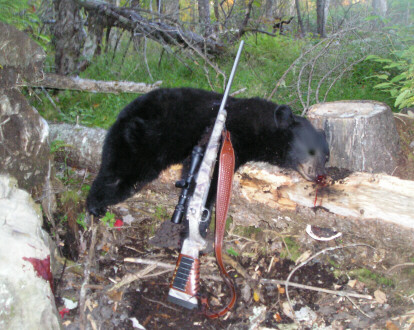 Dear Dick,
I got my rifle sling.... and I just wanted to let you know it was everything that I had imagined... I could not have drawn one up that would be more perfect for my needs... excellent craftsmanship .... very speedy delivery time.... it was worth every penny and I will have it .... use it .... and enjoy it the rest of my days!!!! Thank you so much for your service and your quality.... two things that are hard to find now days!

Happy Hunting!
Sincerely
J. R.
"An Oregon Hunter"
---
Mr. Murray,
The scabbard arrived on Friday (7/18/08), and my rifle was a perfect fit. Thank you for your efforts and workmanship on my behalf.

J. B., California